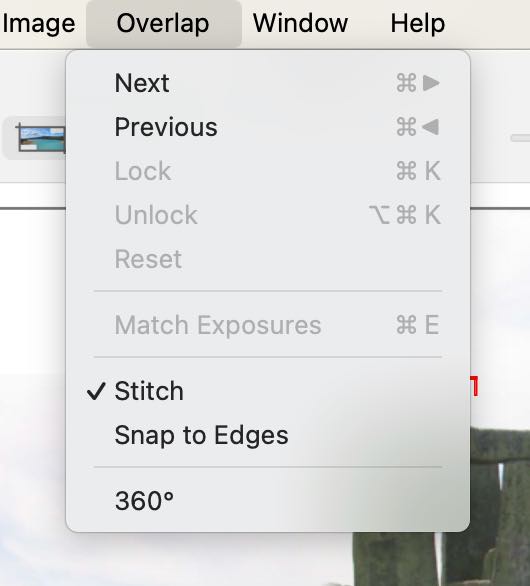 Many images
When you drop many images into DoubleTake, Zoom to fit will make the overlaps rather small. If you then zoom in to see each overlap clearly you can jump to the next overlap with the Next and Previous menu (and their shortcuts).

The lock and unlock function can be used when you have adjusted an overlap, and you don't want to move the images apart by accident. The 2 images now select and deselect together, and they move together when you drag with the mouse.

Reset is only if you have adjusted the seam width or dragged the seam away from the center of the overlap.
Keyboard Shortcut
Extend selection: If you have selected an image in the middle of a panorama you can select all images to the left or right by using cmd-shift-right/left-arrow.
DoubleTake file format
If you have arranged many images, you may save the arrangement and settings as well as saving the completed image. This is good if you want to make a change later. Then you don't have to rearrange all the images again.
The format does not save copies of the images, but just their location on your disk. If you move the images, then you should put the DoubleTake file the same place, so it can find them.
While I don't intend to document the internals of the format (XML) you are welcome to take a look inside with Text Exit!
An other reason to save these files is if DoubleTake gets new features, then it is easy to open old image sets.
DoubleTake File Format - The Library
When you save a merged image as a normal image format, DoubleTake saves the settings in its own folder which you set up in the preferences. You can then go back into this folder later and open the arrangements later, if you have not moved the original images.
QuickTime VR
You can save any stitched image as QuickTime VR with DoubleTake.
To stitch 360 degree seams, you pick the 360 degree menu item in the overlap menu. This duplicates the left image to the right so you can arrange the seam on the "back side". You can move the duplicated image to line everything up, and when you release the mouse all the images gets rotated together if your horizon is not perfectly level.

The save sheet gives you a few options to generate HTML code for embedding QuickTime VR in web pages. You can either use the html which gets placed on the clipboard, or use the full screen QuickTime VR html setup saved together with the movie.

If you resize DoubleTakes window, zoom and scroll to a view on the panorama, this setting will be stored as the default opening of the QuickTime VR movie.

Here is a one minute movie showing how to make a 360 degree qtvr out of 3 photos (whicha are not really 360 degrees).

Notice that since Apple does not support QuickTime VR in 64 bit mode you will need to switch DoubleTake to 32 bit mode to save as QTVR on Mac OS 10.5 and newer.

Bug Warning: With a security update in early 2011 Apple has intruduced a bug which will make QTVR movies crash QuickTime Player 7. Apple has fixed this in Mac OS 10.7 "Lion" and I hope they will release a fix for Mac OSX 10.6.8 as well.
Photomontages
You can use DoubleTake as a quick way to create photomontages. Take a look at the video to see a demonstration.
Large Images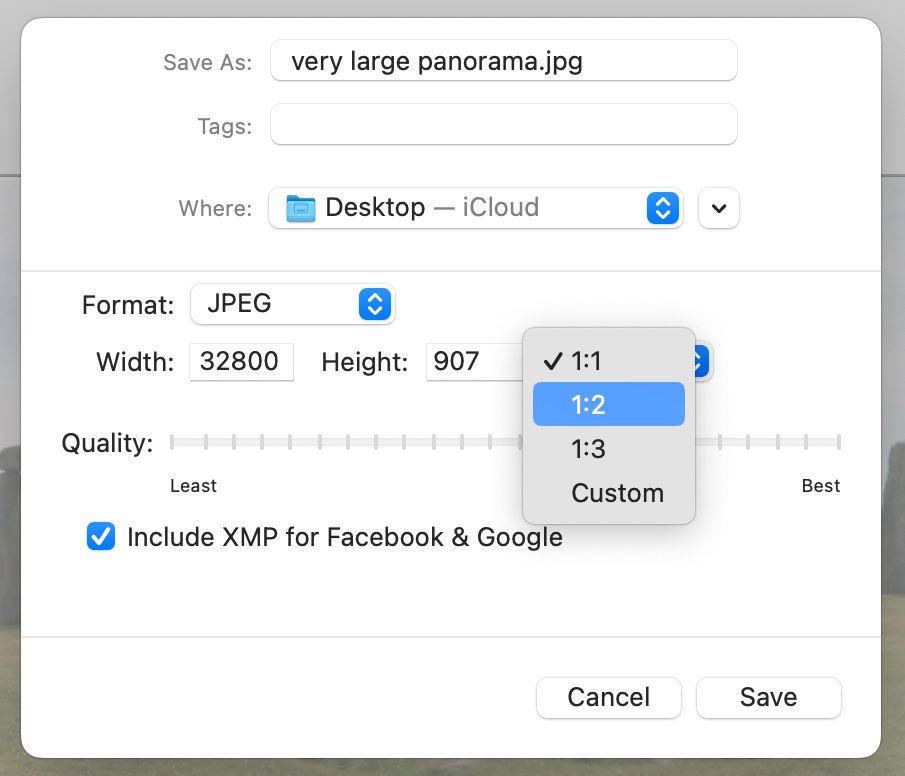 With DoubleTake you can create images which are very large. If you stitch 16 photos from a 12 mega-pixel camera, the final image can end up having more than 100 million pixels.

Many applications can not handle images this big gracefully, or become overloaded. Adobe's PhotoShop Elements has a limit of 30,000 pixels wide or high images.
A 30,000 pixel wide panorama will take a long time to open in Preview on most Macs (20 minutes on my PowerBook with 1GB of RAM), so I recommend using the "1:2" or "1:3" scaling to get an image less than 15,000 pixels wide.

The "Custom" scaling makes it possible save the panorama in any smaller size and it will keep the proportions intact. If you type in 1.000 pixels in the height field, the width field is automatically set so that the hight:width proportions will remain the same.

If you have Mac OS X Snow Leopard, and an Intel Mac with a Core 2 Duo processor, the newest version of DoubleTake may save images of insane sizes. If you push these limits I recommend that you save as doubletake format first, and the attempt the huge save. And send me an email where you explain why it would be amazing to use such large images.