Über DoubleTake
DoubleTake ist für Benutzer die kompakte Kameras mögen, aber manchmal wünschen, dass Sie eine Weitwinkellinse aus Ihrer Tasche zaubern könnten oder einen Sensor mit einigen extra Megapixel für große Drucke einschließen könnten.
DoubleTake erlaubt es, indem es Ihnen beides - automatische und manuelle Steuerungen - gibt um Photos mit einfachem Ziehen perfekt zu verbinden.
Preis
DoubleTake kostet 16.95 €. Wenn Sie bezahlt haben erhalten Sie eine Lizenznummer, die SIe zusammen mit Ihrem Namen in das Registrierungsfenster eingeben.
Wenn Sie sich registrieren, verschwindet das "DoubleTake" Wasserzeichen vom Bild.
Upgrades von vorigen Versionen von DoubleTake sind kostenlos.
Um DoubleTake zu kaufen, klicken Sie auf den Kaufknopf im Regrierungsfenster oder besuchen Sie meinen Webshop unter
Kagi
(International) oder
eSellerate
(nur auf Englisch).
Lizenz
Die Lizenz für DoubleTake ist eine nicht-exklusive Einzellizenz. Die Lizenz um DoubleTake ist persönlich und nicht zu verleihen, vermieten oder verkaufen.
Anforderungen
DoubleTake 2.2.4 erfordert Mac OS X 10.5.8
DoubleTake 2.2.3 erfordert Mac OS X 10.4.11
DoubleTake 1.6.2 erfordert Mac OS X 10.3.9
Verlauf
Version 2.2.4 - May 5 2010
New: added the menu option to turn stitching off. This is useful for photomontages where the blends don't make sense
New: added the menu option to snap images to edges when draggging. This is useful for photomontages.
Changed: when dropping images one at a time, the place the image is dropped becomes its initial position. This is useful for photomontages and for better manual control of. If dropped on top of existing images DoubleTake will try to find a more appropriate spot.
Changed: images are now drawn in the order they have been last selected. Useful when stitching is turned off.
Fixed: crash when stitching images of different size (likely for photomontages)
Requirements: Mac OS X 10.5.8
Version 2.2.3 - August 3 2009
Fixed: on Snow Leopard a redraw problem where images got scaled down when adjusting colors or geometry.
Fixed: crash when opening the iPhoto browser from the Windows menu.
Fixed: crash when chosing Next from the Overlap menu and there are no overlaps.
Version 2.2.1 - May 18 2009
Fixed: interactive feedback on G5 Macs on Mac OS X 10.5.7.
Updated: RAW photos stitched will save as TIFF when using the shortcuts to Aperture and iPhoto.
Version 2.2 - February 6 2009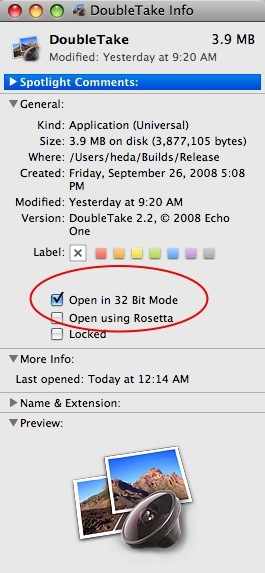 New: 64 bit support - on newer Macs.
New: Toolbar buttons for saving the result and getting it imported into iPhoto or Aperture.
Fix: Crash when printing posters
Fix: Crash when switching in and out of DoubleTake several times when doing more than one panorama.
Fix: Files saved for iPhoto now get a proper extension
Fix: Files saved for iPhoto get a file name based on the image numbers if they are sequentially numbered (quite common)
Fix: Files saved for Aperture now import into Aperture in a project named DoubleTake
Fix: GPS Coordinates made by iPhone are now preserved in the final panorama
To save panoramas larger than 100 million pixels you need a Mac with an Intel Core 2 Duo processor or newer and Mac OS X 10.5. The G5 should support 64 bit too. The upper limit of saved files is not known - but I believe this is limited by patience, file format limits and the appication in which you wish to use the saved image.
When running 64 bit QuickTime VR is not supported, and neither is stitching of QuickTime movies (not many have ever tried this).
To turn on 64 bit mode use Get Info in Finder and uncheck the 32 bit checkbox
To turn off 64 bit mode use Get Info in Finder and check the 32 bit checkbox
4.9.8 July 18 2008
Added: support for iPhoto's ithmb files for the iPod Photo (they are different from the ones on the iPod).
Added: extract of content of .webarchive files from Safari 4.
Added: extract of xml coded binary data from .plist files.
Version 2.1 - 16. April 2007
Neu: Posterdruck
Gelöst: Problem wo die Griffe das ganze Panorama rot erscheinen ließen
Gelöst: Bilder, die sich nur in einigen Pixeln überlappen, werden nicht gespeichert und sogar mit der Überlappung teilweise gezeichnet.
Version 2.0.5 - February 25 2007
New: Portuguese localization - many thanks to Luis Damas
New: Swedish localization done by Henrik Dalgaard (jeg er dansker!)
Version 2.0.5 - December 7 2006
New: You can drop 360 degree images into DoubleTake wrap them into a QTVR movie
New: Chinese localization by Ayee
Fixed: rare crash when placing images within 2 pixels of each other with no overlap
Improved: vertical banding removed when stitching night shots
Version 2.0.4 - August 25 2006
New: Manual cropping of the panorama
New: keyboard shortcuts (as in PhotoShop) for zoom to fit and zoom to actual pixels
Fixed: the with and height fields were disabled on a 2nd save
Fixed: the selection of images was lost when zooming
Fixed: ICC profile was not written in TIFF panoramas if the photos were 16 bit
Version 2.0.3 - July 19 2006
New: Rotate left and right for all images
Fixed: a memory leak which could make DoubleTake run out of memory after having stitched about 30-60 images
New: Control click in DoubleTakes window to force it to arrange images in horizontally, vertically or sort by time taken if the default arrangement does not pick the right solution. See the Chamhord sample for such a case.
Version 2.0.2 - July 9 2006
Fixed: redraw problems with "blank" images after some undo operations. They would redraw again if nudged a bit
Fixed: QTVR now opens at the zoom and tilt corresponding to the last view in DoubleTake before saving. This did work except if the zoom was at the back seam
Fixed: the 360 degree seam would not enable if the 2 rightmost images were almost on top of each other
Improved: the case where the .doubletake files have been moved from the images now asks where they have been moved to.
New: Save a QTVR from a single image (which is already 360 degrees). Just open the image, turn on the 360 seam and save as QTVR.
Version 2.0.1 - June 20 2006
Fixed: using the arrow keys, or clicking the geometry sliders and not moving could make images disappear
Fixed: starting DoubleTake 2 on Mac OS X 10.3.9 now refers to DoubleTake 1.6.2 instead
Fixed: layout of info window fixed in German, French and Italian
Version 2.0 - June 16 2006
Most of the code is now rewritten to take advantage of Tiger's Core Image graphics card acceleration. It is of course also a Universal Binary.
Adjust and Geometry tools - try the Samples
Rotate mode - hit r on keyboard - notice how the corner handles change
Scale mode - hit s
Free Perspective mode - hit p
Normal move mode - hit n
Image menu
Exposure matching
Align button for making manual re-orderings snap together
Rotation of all selected images at once via the geometry window.
QTVR save option
Version 2.0 - the beta versions
See the separate
beta-readme
page for version 2
1.6.2 June 28 2005
Performance improvement when saving. Mac OS 10.4 is faster for this.

Translation to Dutch - (not proof read yet).

1.6.1 June 15 2005

1.6 June 11 2005

A few extra Save options

Printing
G4 requirement for Tiger removed

1.5 April 13 2005

Redrawing of the crop frame polished, and a redraw problem is fixed
Fixed a problem which occurred If you dragged in the images one at a time. DoubleTake could go into infinite loop, and be come unresponsive.

1.5b2 - April 12 2005


You can now save a DoubleTake document which contains references to the original images and how they are arranged. This is handy if you want to come back and do minor adjustments later.
You can adjust images currently being worked with in DoubleTake in other applications, as iPhoto. If you find one image which needs a bit of rotation or exposure correction, you can do this there and save it. When you return to DoubleTake it will notice that the file has been updated and reload it.
Images rotated, with tag only rotation, will now show up correctly.
The x-ray mode of overlapping the images has been replaced by transparency, as this is much simpler, faster, and require less memory. It also has a cool visual effect when DoubleTake blends the overlaps.
Keyboard sort cuts. See the menus. Arrow keys move the selected image, and turns it transparent for 2 seconds. Useful for fine tuning image positions. Tab selects the next overlap, useful when you are zoomed in.

Dragging more than one image. Select them with the shift key held down.
Locking overlaps. See the overlap menu, and use the additional shortcut at the space bar.
Better sorting when opening many images. It sorts by filename, and tries both backwards and forwards order. When sorting fewer than 9 images all possible arrangements are tried. This does not mean that it gets it perfect every time. The Stonehenge example shows why.
Spelling fixes in the German translation. Danish translation added. I have looked up more words in Japanese. I am happy to receive corrections to the translations.
New icon


1.5b1

Performance enhancements of all operations.

2 Crop modes: outside all the images, or inside.

Fish eye correction for shorter focal lengths.

Paste of images from iPhoto. Copy & paste of the merged image to iPhoto
Undo of the movement operations.
Automatic guess of arrangement is now enabled for more than 2 images.
Delete of accidentally imported images. Select it with one click, and chose "Delete".

1.0.1

Fixed crash when moving images with the keyboard.
Larger handles showing which image is selected for keyboard control.
Fixed problem reading TIFF files with higher resolution.

1.0 March 23 2005

Simplified and cleaner interface.

More control of the final result.
Better handling of panoramas wider than 2 images.
Support for vertically stacked images

0.99 February 3 2005

This is the first release.

Improve documentation on QTVR.
Make gallery.
Bugs - in version 1.6.2
DoubleTake requires "Millions of Colors" in your "system preferences" to blend images properly. It is a bug not to put up an alert about this (like iPhoto does). DoubleTake use the graphics card, and this is even more true for the next version.
Fehler - Bitte melden!
Bitte
Fehlermeldungen
an Henrik Dalgaard -
feedback@echoone.com
.
Installation
Sie können DoubleTake direkt vom Disk Image testen. Um es zu installieren ziehen Sie das DoubleTake Programm vom Disk Image zum Programme Ordner auf Ihrer Festplatte oder wo Sie es wünschen.
Deinstallation
Ziehen Sie DoubleTake in den Papierkorb.
Credits
Localisierung
Portugisisch:
Luis Damas
Französisch:
Ronald Leroux
Japanisch: Yukirou Murai
Deutsch:
Georg Seifert
Website:
StuFF mc
Chinesisch:
Ayee
Italienisch: Pierino Donati -
Studio tecnico geom. Pierino Donati
Niederländisch: Sander van Vugt.
Dänisch, Schwedisch: Henrik Dalgaard
Localisierungswerkzeuge
iLocalize
und Apple's Wörtebücher.
Übersetzung auf Deutsch von Henrik Dalgaard, Sabine Schulz und
StuFF mc
.
Disclaimer
DoubleTake kommt ohne Gewähr. Es mag nicht wie erwartet funktionnieren, und ich bin für spezielle, indirekte, Folgeschäden, oder irgendetwas durch die Software Begründetes nicht verantwortlich.
Kontakt
Feedback und Fragen richten Sie an:
Henrik Dalgaard
Echo One
feedback@echoone.com