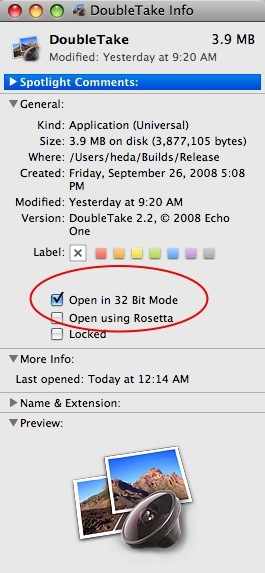 DoubleTake 2.2 Prerelease - February 4 2009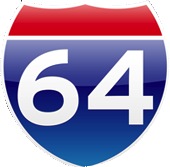 Don't hestitate reporting any problems to: Henrik Dalgaard at feedback@echoone.com.

DoubleTake 2.2 is built with Apple's newest tools and updated to take advantage of the 64 bit architecture in newer Macs.

DoubleTake 2.2 requires Mac OS 10.4 or newer

To save panoramas larger than 100 million pixels you need a Mac with an Intel Core 2 Duo processor or newer and Mac OS X 10.5. The G5 should support 64 bit too. The upper limit of saved files is not known - but I believe this is limited by patience, file format limits and the appication in which you wish to use the saved image.

When running 64 bit QuickTime VR is not supported, and neither is stitching of QuickTime movies (not many have ever tried this).

To turn on 64 bit mode use Get Info in Finder and uncheck the 32 bit checkbox

To turn off 64 bit mode use Get Info in Finder and check the 32 bit checkbox

Unfinished - localization to Danish and Russian
Download
DoubleTake 2.1 is the current official release - but I now believe version 2.2 is better!
DoubleTake 2.2 b20 - a 2.9 MB download.
Latest Changes
Feb 4 2009
Fix: Files saved for iPhoto now get a proper extension
Fix: Files saved for iPhoto get a file name based on the image numbers if they are sequentially numbered (quite common)
Fix: Files saved for Aperture now import into Aperture in a project named DoubleTake
Fix: GPS Coordinates made by iPhone are now preserved in the final panorama
Purchase
The DoubleTake 2.1 licenses work and existing users will get a free upgrade.
Contact
Feedback, report bugs and questions are welcome to:

Henrik Dalgaard
Echo One
feedback@echoone.com

My time zone: Central European - I live in Denmark.