System 7 Sounds on macOS
Updated on Feb 11 2021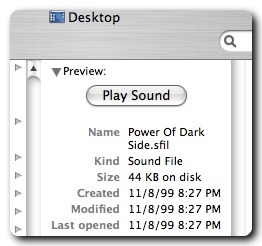 Mac OS 7 (1991) stored sounds in the resource fork of files or applications. Back then you could use
ResEdit
to access them.
File Juicer extracts sound resources into one sound per file, and you could listen to the extracted sounds in Finder (until about 2012). Finder's "Column View" was the most convenient if you had many sounds.
Requirements
Mac OS 10.4 to macOS 10.13. Catalina and Big Sur no longer runs 32 bit apps.
File Juicer 4.36 - the last 32 bit version of File Juicer
If the file stores the resources in the data fork, make sure it has the extension .rsrc so File Juicer can identify it
These old files can not be emailed without being archived with Finder first. Finder still knows how to preserve them properly
File Juicer 4.36 also creates a QuickTime 7 version of the same sound, without reencoding to preserve the quality. QuickTime 7 is not compatible with macOS Catalina or later.
You may find QuickTime 7 here: QuickTime 7 search on apple.com. You will need it to play the old .mov files as QuickTime can't handle them today.
Convert the Old .mov Sounds With File Juicer 4.36
Make sure the AIFF box is checked in File Juicer's preferences. Then drop in the .mov files extracted from the files you originally had the sound in. Like text files made by SimpleText.
Convert and Organize Sounds with iTunes (2010ish)
Sounds in the resource format (of type 'sfil') used before macOS are no longer the most convenient format. To convert the sounds to AIFF, which has much better support by MacOS X (Mail, Alert Sounds etc), you can switch iTunes import preference to AIFF, drag the QuickTime version of the sounds (made by File Juicer 4) into your library and convert them in this way.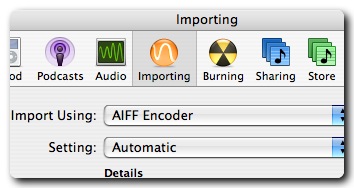 After the import you can drag the sounds back out to the Desktop or into your Library > Sounds folder, where macOS will recognize them as system sounds.
Remember to switch the import setting back to your regular setting after converting the sounds!
You can open the "iTunes Import As AIFF" application with Automator to see how it works, and change the Album title if you desire.
Links
Mac OS 7
- Wikipedia link
The Sound Manager and SndPlay
the function used by programmers to play sounds.